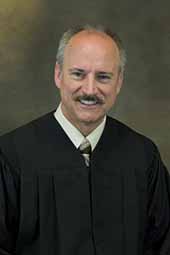 Body
Judge Zimmerman is an honors graduate and received both a Master's Degree and Law Degree from Gonzaga University. He was first elected in 1986, with nearly 70 percent of the vote. Judge Zimmerman has been appointed to several State Judicial Committees and has served as a Mentor Judge, training newly elected and appointed Judges statewide. He has taught college law courses and is a frequent lecturer in the community.
As a former criminal prosecutor for 10 years, he received law enforcement commendations at local, state, and national levels, including winning a landmark case in the Supreme Court on Victims' Rights. In 2012 Judge Zimmerman was chosen as Access to Justice's Statewide Judge of the Year. In 2013 he was awarded the Local Hero Award by the State Bar Association in recognition for his work in establishing the Clark County Veterans Therapeutic Court. He also was awarded the first ever Star Award by the Clark County DUI Traffic Safety Task Force for exceptional community leadership in the field of traffic safety.
Community involvement: Boards for Handicapped and Mental Illness, Hospice, Special Olympics, Scouting and Blind School Volunteers. He has coached and officiated over youth sports for more than 30 years.