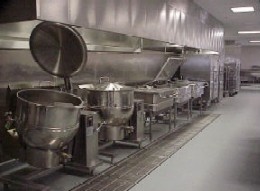 Body
What is Jail Industries?
Jail Industries is a program at the Jail Work Center facility allowing low risk inmates to repay the community in a work setting while serving their sentence.  Jail Industries utilizes the Kitchen and Warehouse building and has several work units:  Food and Laundry Services, and Grounds and Janitorial Maintenance.  Inmates are assigned to a work crew and are under the direction of corrections staff or supervisors while working.
Who is eligible?
Sentenced inmates who meet specific criteria are transferred from the Main Jail and housed at the Jail Work Center facility.  Those who do not qualify for the Work Release program are housed in the In-Custody building and are assigned to a work crew.  These inmates are given jobs that benefit themselves, the Sheriff's Office and the county at large.
What are the benefits?
For inmates, this is an opportunity for a positive life change if they so choose.  Valuable experiences working as part of a team, completing job assignments, and learning job skills.  They can learn to be productive, accountable, reliable, responsible, build self confidence, and motivation for a positive change in their own and their families lives.

Inmate workers help keep the Sheriff's Office facilities functioning and maintained.  In 2009, inmate worker hours were 156,198 for an estimated labor cost at minimum wage of $1,361,142 which is a real financial savings to the Sheriff's Office.  If these hours were hired positions or contracted services the cost would be much higher.
Food Services
The Food Service unit provides meals to the Main Jail, Jail Work Center, and the Juvenile Justice Center.  Utilizing the large centralized kitchen, inmate workers prepare and deliver approximately 934 meals three times each day, seven days each week.  Meals are served on individual trays and delivered using food carts and a delivery truck.

Total meals served in 2009 were 1,021,887.  Special meals needed for medical or religious reasons are included.  Average cost per meal is $1.80, with raw food costs averaging $.84 per meal. 

To be more environmentally friendly and reduce landfill waste these changes were made in 2006:  many packaged or wrapped food items for meal trays were eliminated, recycling cooking grease, and recycling metals and cardboards.

The unit staff consists of one manager and 13 food service coordinators who train and supervise 2 work crews of 15-20 inmates in all aspects of food preparation, safety and delivery. 

Each year, the centralized kitchen continues to receive excellent ratings by the Clark County Public Health Department at regular monitoring and inspections.
Laundry Services
The Laundry Service unit services the Main Jail, Jail Work Center, and Juvenile Justice Center processing approximately 247 tons of laundry in 2009. 
The laundry work crew, supervised by 2  jail industry coordinators, work 2 shifts, 5 days per week to collect, wash, fold and deliver clothing, bedding, towels and sandals for the facilities.  This includes processing bio-contaminated linens.
Grounds Maintenance
The grounds maintenance crew offenders are supervised by corrections deputies.  Since the opening of the Jail Work Center facility, the grounds maintenance work crew has assisted with a variety of special projects including public events litter pick up and local horticultural events.  Maintaining the Jail Work Center's 18.3 acres is their primary function.  
Janitorial Maintenance
The janitorial work crew offenders, supervised by a jail industry coordinator, was responsible for janitorial services for the Clark County Law Enforcement West and Central precincts, Mabry Correction Center,  Clark County Corrections and the Clark County Law Enforcement Center. 
In 2007, these buildings were added to other County buildings contracted janitorial services vendor allowing the janitorial work crew to focus on inmate areas of the Jail Work Center and the Main Jail facilities.  They clean, wax and buff floors and clean walls in both facilities, and deep clean booking and pod control areas at the Main Jail.
Main Phone: 564.397.2138