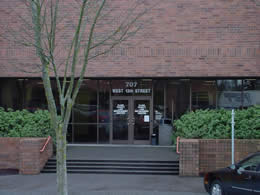 Body
The Main Jail is located in the Clark County Law Enforcement Center building in downtown Vancouver.  The Main Jail is an indirect supervision facility that serves as Clark County's Law Enforcement intake facility and houses pre-trial and locally sentenced medium and maximum security classified inmates. 
Individuals arrested in Clark County, court ordered or sentenced jail time are booked at the Main Jail facility and processed for housing.  The courts determine length of sentence per charge and total time to serve.  Sentences up to a year are usually served in jail and longer sentences are usually served in prison.  The average length of stay in 2009 was 16 days.  Contributing to shorter stays are individuals able to post bail, court appearances satisfied, short term jail sentences, inmates transferred to prison and inmates of non-local charges being transported to other facilities. 
As the inmate population continues to change, these changes impact workload and resources of the Main Jail.  Over the years, inmate population has increased yearly except for 2009 when inmate population decreased slightly.  The increases create challenges in housing and space.  Built in 1984 with an initial bed capacity of 300, this facility has undergone several remodels and upgrades to maximize the building's capacity without structural changes and now has a bed capacity of 569. 
The remodels and upgrades not only expanded bed capacity, but were necessary for additional safety and security of both staff and inmates.  In recent years there has been a significant increase in special needs inmates who require intensive supervision increasing workload and special housing.  Inmates with special needs show an increase in: mental illness, geriatrics, substance abuse and extreme violence requiring added safety, security and monitoring measures.  In 2005, the laundry area was remodeled into a smaller laundry area and 4 special needs holding cells.
Main phone: 564.397.2211