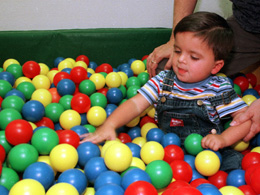 Body
There are a number of programs and services available to families and children birth to three years of age who have developmental delays.
Some of these programs are designed specifically for children who have significant developmental delays. These early intervention programs provide support and training for families as well as needed therapeutic services to children.
Training and education for parents, support groups for families, integrated pre-school, adaptive equipment, and specific individualized therapies are all part of the current services available.
FREE developmental screening for children birth to three years old. If you have a concern about your child's development please call for an appointment 360.750.7507.
Resources
Early Support for Infant Toddler (ESIT)
360.750.7507 
Educational Services District (ESD) #112
360.750.7500
Innovative Services NW Pediatric Therapy Services
360.892.5142