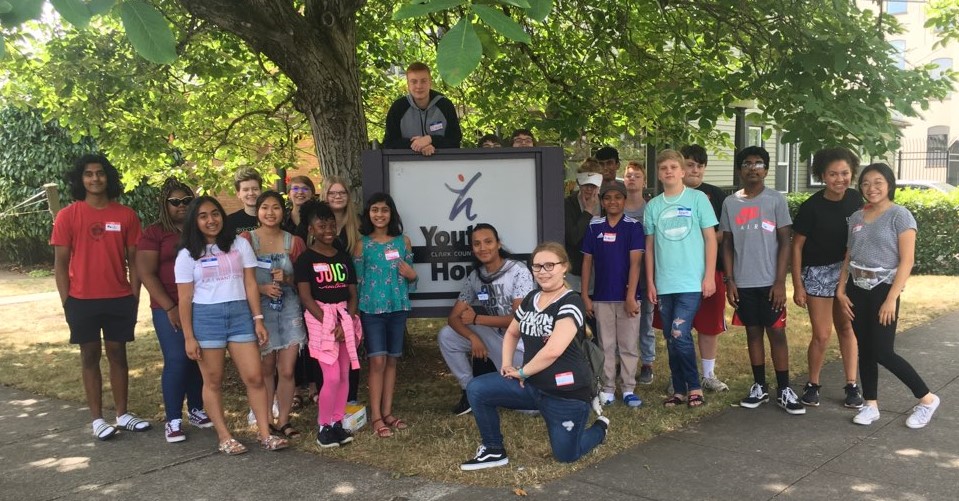 Body
CVTV interviewed youth commissioners Shalaka and Wesley about why they joined the Youth Commission and to give viewers a glimpse into the work we do. Along with other things, Shalaka and Wesley shared about last year's project when we brainstormed ways for our community to bounce back and become stronger following the pandemic, and how this year we are looking at building an intergenerational, connected community through reviewing the Comprehensive Growth Management Plan, green spaces (like parks), houselessness, and mental health. Check it out: https://youtu.be/MxOTG3LXl5E
Who We Are
The Clark County Youth Commission is a youth-driven advisory board and leadership development program established by the Clark County Board of Commissioners in April 1998. Members, ages 11-19, aim to represent all the diverse youth living in Clark County.
What We Do
Members provide a youth-oriented point-of-view to the work of the Clark County Council, county departments, and community organizations. The Youth Commission informs these groups about issues important to youth, makes suggestions on how to address these issues, and provides advice on how to build positive partnerships with youth.
Our Work
Each year, the Youth Commission studies a topic and shares its recommendations with the Clark County Council and the community.
In the 2019-20 term, the Youth Commission studied youth violence prevention in relation to mental health. This report provides an overview of risk and protective factors, and describes five key recommendations to prevent and reduce youth violence.
In the 2018-19 term, the Youth Commission studied mental health, transitioning into adulthood, and youth homelessness. This report describes prevention strategies and root causes for these three issues and provides recommendations for improving youth mental health, making youth more ready for adulthood, and reducing youth homelessness.
In the 2017-18 term, the Youth Commission studied community identity, placemaking, the impact of art in identity formation, reuse plans for Camp Bonneville (see overview report), visioning for the Lewis and Clark Greenway Trail, as well as the impact of blue and green spaces on physical, psychological, and emotional well-being. A summary of the findings may be found here.
Other topics the Youth Commission studied include:
Citizen voice and engagement
Stress and self-care
Happiness and well-being
Youth violence prevention
Community livability
Social networking

Diversity
Parks and open spaces
Environmental sustainability
Bicycle helmets
Youth mental health
Fireworks

Economic development
Comprehensive growth management
Youth House business plan
Clark County youth policy
Youth suicide prevention
Teen courts
Contact Us
For more information, contact Elizabeth Houston-Hill at elizabeth.hill@clark.wa.gov or 564.397.5133.
Visit our social media pages to further engage with Clark County youth!