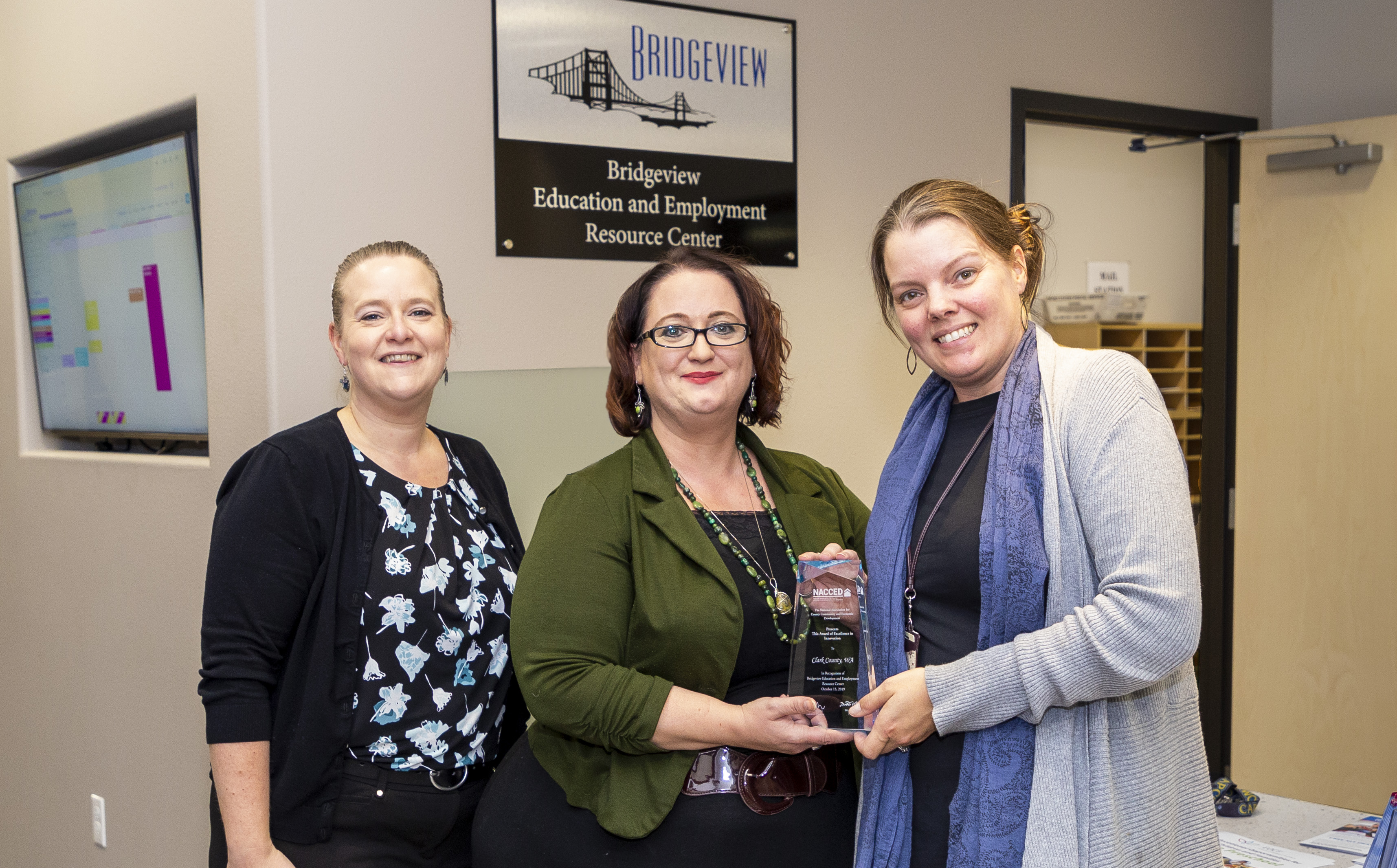 Body
Clark County, WA – The Bridgeview Resource Center has been recognized with the National Association for County Community and Economic Development (NACCED) 2019 Award of Excellence in Innovation. Clark County Community Services' Community Development Block Grant (CDBG) Program staff nominated Bridgeview for the award. Samantha Whitley, Clark County Community Services Program Coordinator, accepted the award at the NACCED Annual Conference in Tucson, Arizona on Oct.15.
In commenting on the award, Mary A. Keating, NACCED's president, said, "I can say that the committee was impressed by how comprehensive the project is. It appears the center and its partners support a diversity of residents (youth, parents, seniors, people with disabilities, youth aging out of foster care) with a comprehensive approach to service delivery. We also really appreciated the level of engagement from the residents, and the broader community." In the award nomination, Clark County staff noted that "by centralizing access to services, everyone benefits…with centralized access to classrooms, computers, office and meeting space, [social service] partners and families come together in a manner that increases effectiveness and streamlines service."
Clark County was an early supporter of the Bridgeview Resource Center, awarding $100,000 in Community Development Block Grant (CDBG) funds toward the center's construction. Among the reasons cited by the county for supporting Bridgeview were the ways it helped meet a goal of the Clark County Action Plan, to "establish and maintain suitable living environment and economic opportunities" and the primary strategy to "support acquisition of and improvement to facilities that provide services to low-income, elderly and special needs persons." The role of Clark County Community Services is to enhance the quality of life through public resources that serve the county's most vulnerable populations and to help them access services and opportunities that lead to a better life.
The Bridgeview Resource Center opened its doors to the public on Jan. 7, 2019 and has already exceeded the 2,700 people they projected would be served in the first year. The resource center was designed as a central place where people could learn about the resources available in the larger community. A navigator is available to connect people to the agencies that best suit their individual needs. Additionally, more than 25 local organizations and agencies collaborate to offer classes and events to help people with education, health and wellness, and employment to get ahead. Some partners such as WorkSource, Goodwill Job Connection, Bridgeview, and Lighthouse Community Credit Union have offices at the resource center. Other partners offer classes and activities at the center. Bridgeview, a local nonprofit organization, owns and operates the resource center.
The Bridgeview Education and Employment Resource Center is located at 505 Omaha Way in the Skyline Crest neighborhood in Vancouver's McLoughlin Heights, next to the Boys & Girls Club.
CONTACT
Steve Towell
Community Relations Media Contact
Vancouver Housing Authority
360-993-9563
stowell@vhausa.com