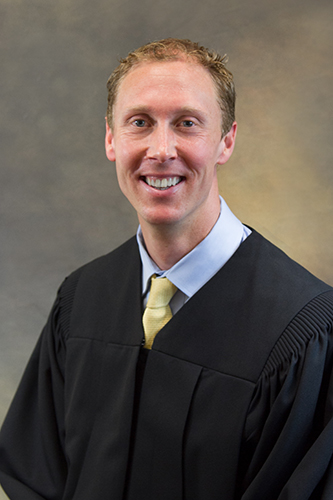 Body
Judge Sleight is a lifelong resident of Clark County, grew up in Camas, WA, and graduated from Camas High School in 1996.  He attended Western Washington University in Bellingham, WA, graduating in 2000 with a Bachelor or Arts in Political Science.  He attended law school at Willamette University in Salem, OR, receiving his law degree in 2003.  Until his appointment to the District Court Bench, his law practice focused primarily on criminal law.  
In 2005, Judge Sleight became a founding partner at the law firm of Wheeler, Montgomery, Sleight & Boyd, remaining with the firm until 2016.  During that time, he served as the City Prosecutor for Battle Ground, Ridgefield, and La Center. He represented retained clients on felony and misdemeanor cases, and worked as a public defender in the Washougal Municipal Court representing indigent clients.
Judge Sleight began serving as a judge pro tem for Clark County District Court in 2013, covering criminal, traffic, and civil dockets.  He is a past Board member of the Clark County Bar Association, having held the positions of Trustee, Vice-President, and President.