Body
This church, the old post office, and the schoolhouse previously comprised the center of the town of Amboy. The church served many community purposes including social gatherings and school plays. 

The building is an example of early 20th century Gothic Revival vernacular architecture; noted by its peaked, not arched, windows. The building is supported on 12 inch diameter half-round timbers. The distinctive steeple is clad in cedar shakes or shingles. 

The building is currently hosting the North Clark Historical Museum. This museum won the State Stewardship Award in 2001 as an example of a largely volunteer effort which, has preserved and protected a very significant part of the local history. Exhibits are currently under development that will help to tell the story of life in early, rural Clark County. 
Listed on the Clark County Heritage Register in 1996.
Listed on the National Register of Historic Places in 2008.
Open to Public:
Yes, every Saturday from 12 to 4 p.m. and for special occasions.
For event reservation information, call the North Clark Historical Museum at (360) 247-5800.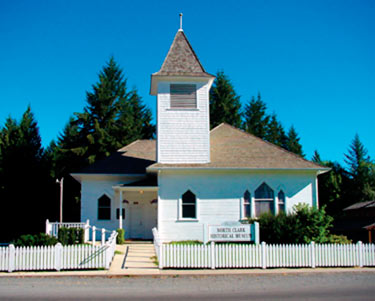 Did you know?
The church was dedicated in 1910, though the date of construction is unknown.
Location
Amboy United Brethren Church
21416 NE 399th St.
Amboy, WA 98601
United States