Commission on Aging Meetings
The Commission on Aging typically meets at 4:30 p.m. on the third Wednesday of each month at the Public Service Center's 6th floor hearing room, 1300 Franklin St., Vancouver. They hold work sessions prior to the formal meeting in the 6th floor training room, either at 3 p.m. or 3:30 p.m., depending on the amount of business to discuss.
Due to COVID-19, the commission is meeting virtually via Webex Events. For information on how to join and participate in the monthly meetings, please see meeting details below.
---
How to participate remotely during the COVID-19 pandemic
Until further notice, the Commission on Aging meetings will be held in a virtual format with members attending and voting via WebEx.
If you would like to speak during the public comment period, you will need to connect to the meeting via your computer/internet or by phone.
---
Meeting information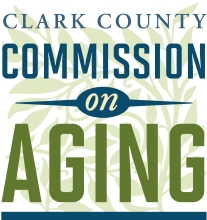 ---
Date
Agenda/Minutes
Notes/Related Documents
Audio/Video

Due to COVID-19, the Oct. 20 Commission on Aging Meeting will be held remotely via Webex at 4:30 p.m.

There are two ways to attend the Webex meeting.

Join by computer: Meeting Link
Meeting #: 2487 071 4300  - Password: oct20coa
Join by phone: 1-408-418-9388  

For detailed instructions on how to join and/or participate in the Webex meeting, please see the instructions above under "How to participate remotely...".

---

The Commission on Aging will hear about the economic impacts related to COVID-19 on older adults' personal finances. The meeting will include guest experts and a discussion about what our community members can do to economically recover in 2021 and beyond.

Meeting guests include:

Scott Bailey, Regional Labor Economist, Washington State Employment Security Department
Gary Beagle, President and CEO, Intrustment Northwest

Due to COVID-19, the Oct. 20 Commission on Aging Work Session will be held remotely via Webex at 3:30 p.m. The regular meeting will follow after at 4:30 p.m.

There are two ways to attend the Webex meeting.

Join by computer: Meeting Link
Meeting #: 2487 071 4300  - Password: oct20coa
Join by phone: 1-408-418-9388    

For detailed instructions on how to join and/or participate in the Webex meeting, please see the instructions above under "How to participate remotely...".

---

Due to COVID-19, the Sept. 15 Commission on Aging Meeting will be held remotely via Webex at 4:30 p.m.

There are two ways to attend the Webex meeting.

Join by computer: Meeting Link
Meeting #: 2499 016 0907  - Password: sep15COA
Join by phone: 1-408-418-9388  

For detailed instructions on how to join and/or participate in the Webex meeting, please see the instructions above under "How to participate remotely...".

---

Aug. 18 Work Session Notes-DRAFT

Aug. 18 Regular Meeting Notes-DRAFT

---

 

Meeting guests include:

Andy Silver, Director of Supportive Services, Vancouver Housing Authority
Tim Zaricznyj, Executive Director of Providence Supportive Housing
Jonathan Kumar, CEO, Samaritan - (Info on Samaritan)

 

Due to COVID-19, the Sept. 15 Commission on Aging Work Session will be held remotely via Webex at 3:30 p.m. The regular meeting will follow after at 4:30 p.m.

There are two ways to attend the Webex meeting.

Join by computer: Meeting Link
Meeting #: 2499 016 0907  - Password: sep15COA
Join by phone: 1-408-418-9388  

For detailed instructions on how to join and/or participate in the Webex meeting, please see the instructions above under "How to participate remotely...".

---

Aug. 18 Work Session Notes-DRAFT

Due to COVID-19, the Aug. 18 Commission on Aging Meeting will be held remotely via Webex at 4:30 p.m. 

There are two ways to attend the Webex meeting.

Join by computer: https://bit.ly/aug18coa
Meeting #: 146 015 6504   - Password: aug18coa
Join by phone: 1-408-418-9388  

For detailed instructions on how to join and/or participate in the Webex meeting, please see the instructions above under "How to participate remotely...".

---

Due to COVID-19, the Aug. 18 Commission on Aging Work Session will be held remotely via Webex at 3:30 p.m. The regular meeting will follow after at 4:30 p.m.

There are two ways to attend the Webex meeting.

Join by computer: https://bit.ly/aug18coa
Meeting #: 146 015 6504   - Password: aug18coa
Join by phone: 1-408-418-9388  

For detailed instructions on how to join and/or participate in the Webex meeting, please see the instructions above under "How to participate remotely...".

---

July 21 Work Session Notes-DRAFT

Due to COVID-19, the July 21 Commission on Aging Meeting will be held remotely via Webex. 

There are two ways to attend the Webex meeting.

Join by computer: https://bit.ly/coajul21
Meeting #: 146 229 7839  - Password: coa21jul
Join by phone: 1-408-418-9388  

For detailed instructions on how to join and/or participate in the Webex meeting, please see the instructions above under "How to participate remotely...".

---

Due to COVID-19, the July 21 Commission on Aging Work Session will be held remotely via Webex at 3:30 p.m. The regular meeting will follow after at 4:30 p.m.

There are two ways to attend the Webex meeting.

Join by computer: https://bit.ly/coajul21
Meeting #: 146 229 7839  - Password: coa21jul
Join by phone: 1-408-418-9388  

For detailed instructions on how to join and/or participate in the Webex meeting, please see the instructions above under "How to participate remotely...".

---

 

This meeting is scheduled as the Commission on Aging's annual retreat.

There are two ways to attend the Webex meeting.

Join by internet: Meeting link
Join by phone: 1-408-418-9388  

For detailed instructions on how to join and/or participate in the Webex meeting, please see the instructions above under "How to participate remotely...".

---

Due to COVID-19, the May 19 Commission on Aging Work Session will be held remotely via Webex. The regular meeting will follow after at 4:30 p.m.

There are two ways to attend the Webex meeting.

Join by computer: http://bit.ly/coamay19
Meeting #: 187 280 1767 - Password: may19coa
Join by phone: 1-408-418-9388  

For detailed instructions on how to join and/or participate in the Webex meeting, please see the instructions above under "How to participate remotely...".

---

April 21 Work Session Notes-DRAFT

April 21 Regular Meeting Notes-DRAFT

Due to COVID-19, the April 21 Commission on Aging meeting will be held remotely via Webex. 

There are two ways to attend the Webex meeting.

Join by computer: http://bit.ly/apr21coa
Meeting #: 187 723 9853 - Password: apr21coa
Join by phone: 1-408-418-9388  

For detailed instructions on how to join and/or participate in the Webex meeting, please see the instructions above under "How to participate remotely...".

---

---

Due to COVID-19, the April 21 Commission on Aging Work Session will be held remotely via Webex. The regular meeting will follow after at 4:30 p.m.

There are two ways to attend the Webex meeting.

Join by computer: http://bit.ly/apr21coa
Meeting #: 187 723 9853 - Password: apr21coa
Join by phone: 1-408-418-9388  

For detailed instructions on how to join and/or participate in the Webex meeting, please see the instructions above under "How to participate remotely...".

---

March 17 Work Session Notes-Draft

Due to COVID-19, the March 17 Commission on Aging meeting will be held remotely via Webex. 

There are two ways to attend the Webex meeting.

Join by computer: http://bit.ly/march17coa
Meeting #: 187 000 3407 - Password: march17coa
Join by phone: 1-408-418-9388  

For detailed instructions on how to join and/or participate in the Webex meeting, please see the instructions above under "How to participate remotely...".

---

Overview of the road to recovery from COVID-19 for older adults

Due to COVID-19, the March 17 Commission on Aging Work Session will be held remotely via Webex. The regular meeting will follow after at 4:30 p.m.

There are two ways to attend the Webex meeting.

Join by computer: http://bit.ly/march17coa
Meeting #: 187 000 3407 - Password: march17coa
Join by phone: 1-408-418-9388  

For detailed instructions on how to join and/or participate in the Webex meeting, please see the instructions above under "How to participate remotely...".

---

Feb. 17 Work Session Notes-DRAFT

Feb. 17 Regular Meeting Notes-DRAFT

The Feb. 17 Commission on Aging meeting is the annual joint meeting with County Council. The meeting will be held remotely via Webex. There are two ways to attend the Webex meeting.

Join by computer: http://bit.ly/feb17coa
Meeting #: 146 083 1843  - Password: feb17coa
Join by phone: 1-408-418-9388  

For detailed instructions on how to join and/or participate in the Webex meeting, please see the instructions above under "How to participate remotely...".

---

Jan. 20 Commission on Aging Mini-Retreat Notes

---

Due to COVID-19, the Feb. 17 Commission on Aging Work Session will be held remotely via Webex. The regular meeting will follow after at 4:30 p.m.

There are two ways to attend the Webex meeting.

Join by computer: http://bit.ly/feb17coaws
Meeting #: 187 986 3915 - Password: feb17coaws
Join by phone: 1-408-418-9388  

For detailed instructions on how to join and/or participate in the Webex meeting, please see the instructions above under "How to participate remotely...".

---

The Jan. 20, 2021 Commission on Aging Webex Meeting will be a work retreat.

---

The Jan. 20 Commission on Aging meeting will be held remotely via Webex. There are two ways to attend the Webex meeting.

Join by computer: http://bit.ly/jan20coa 
Meeting #: 146 955 4936  - Password: coajan20
Join by phone: 1-408-418-9388  - Meeting #: 146 955 4936 

For detailed instructions on how to join and/or participate in the Webex meeting, please see the instructions above under "How to participate remotely...".

---

Dec. 16 Work Session Notes / Dec. 16 Regular Meeting Notes

---

2020 Commission on Aging Take-aways on COVID-19 impacts on older adults

---