Body
The post office is a one-story red brick building. Its front elevation is flat, symmetrical, and classically-proportioned. Five bays divide the façade—two flat–arched window bays and a centered round-arched entry bay. A gable roof topped with a square wooden cupola covers the front portion of the building. Wrought-iron balustrades with integrated lamp standards flank the stairs.
The entry has double wooden doors each with a molded wooden panel. The window bays, with stone lintels and sills, each contain double-hung wood sash with twelve-over-twelve lights. Terminating the first floor is a wooden frieze and dentil cornice. Sloping rearward from the cornice is a copper-clad gable roof topped by a square wooden cupola.
The Camas Main Post Office is significant for its art and its legacy of the Federal Public Works programs of the depression era.
Listed on the National Register of Historic Places in 1991.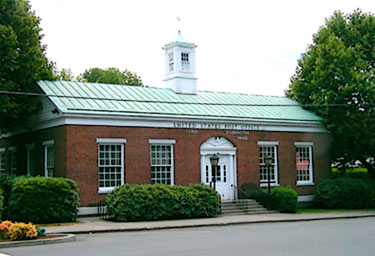 Did you know?
The building is an unaltered example of a small town, single-purpose post office.
Location
Camas Main Post Office
440 NE 5th Ave
Camas, WA 98607
United States