Body
This building housed the Vancouver Library for nearly fifty years. Steel and iron magnate, Andrew Carnegie built 1,412 libraries such as this one. Of these, 43 are in the state of Washington. This library features wonderful architectural details including a large parapet above the main entrance and several cast concrete decorative details. 
Listed on the Clark County Heritage Register in 1985.
Listed on National Register of Historic Places in 1982.
Open to Public:
Tuesday through Saturday 11 a.m. to 4 p.m. and first Thursday evening programs from 5 to 9 p.m.
This property is now home to the Clark County Historical Museum.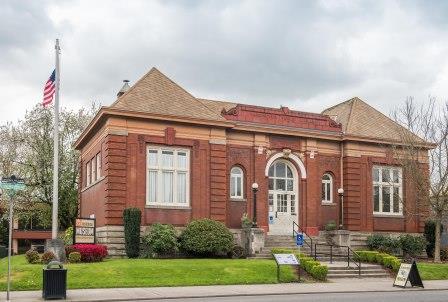 Did you know?
The massive Camperdown Elm was planted in the front of the library in 1915.
Location
Carnegie Library
1511 Main St.
Vancouver, WA 98660
United States