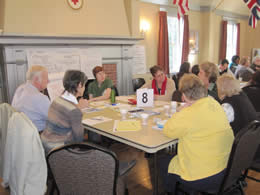 Body
Your input will help us decide what changes to make - or not to make - during the 2016 update project. To be effective, how you say something is as important as what you say, to whom you address your comments and when. Timely delivery of a clear message to the intended audience is the best way to influence the new plan. This page will help you be involved and have your voice heard.
Here are some options to get involved in the project
Attend meetings. Throughout the update process, meetings  - such as workshops, open houses, Planning Commission and Board of County Councilors hearings - will be opportunities for public comment and participation. The meetings will provide information about the project status and in what direction it is headed. Your attendance can directly impact the decision-making process. Meetings involving the 2016 update are kept up-to-date in the 'Meetings' page and will be posted on the 2016 Comprehensive Plan update home page.
Receive email notifications. Sign up to receive automatic emails about any upcoming meetings and information related to the project.
To provide written testimony or comments on the plan update, here are several options
Clark County Community Planning
Attn: 2016 Comp Plan Record
P.O. Box 9810, Vancouver, WA 98666-9810