Body
The Glenwood School was built as a small one room schoolhouse on land donated by Clark County's pioneer settlers the Zimmermans. This small schoolhouse served 21 students in the primary grades, taught by one teacher. 

Remodeled in 1910 the school added an additional room where one teacher instructed grades one through four and the other, teaching grades five through eight. Over the next few decades, the student body included as many as 70 children. During those years, the school provided a much needed community space where Christmas pageants, spring festivals and other community events were held.
After closing its doors in 1956, the building was left to deteriate until 1977 when the property was sold to a Battle Ground school teacher, who is gradually restoring the old school house. The building's characteristic features – its shiplap siding, pedimented gables, tall windows, and louvered belfry, continue to reflect its history as the educational and civic center of the Glenwood Area. 
Listed on the National Register of Historic Places in 1992.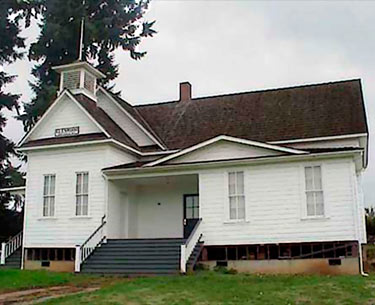 Did you know?
This two-room school was open from 1910 to 1956.
Location
Glenwood School
13305 NE 87th Ave.
Vancouver, WA 98662
United States