Body
This log house in the classical revival style reminiscent of French colonial was the first building erected on military property after the arrival of the US Army in 1849. It was constructed of logs cut from the forested area north of the row. In 1856, the logs were covered with weatherboarding, the house was painted, and shutters, window casings and door casings were added. In the style of the times, the pine-board interior walls were papered with a layer of cloth, a layer of wallpaper, and a border. Remnants of these wall treatments have been recovered and preserved.
Grant House was originally the home and headquarters for the commanding officer of Camp Vancouver, later renamed Columbia Barracks. Subsequently, it served as an officers club and bachelor officers quarters. Although the house is named in honor of General Ulysses S. Grant (1822-1885), he never lived in it during the time he served as regimental quartermaster under General Bonneville with the rank of Brevet Captain. It became the Grant House following a post-presidential visit with Mrs. Grant in 1879.
Listed on the Clark County Heritage Register in 1985.
Listed on National Register of Historic Places in 1974.
Open to Public:
Yes. Please visit The Trust's website for more information or call 360-992-1800.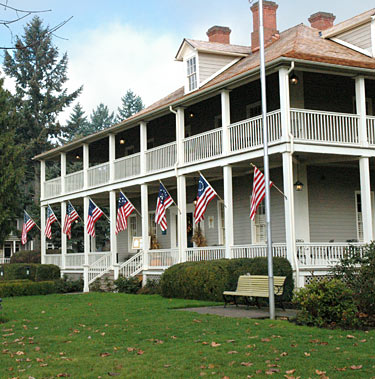 Did you know?
The house is named in honor of General Ulysses S. Grant.
Location
1101 E Evergreen Blvd.
Vancouver, WA 98661
United States