Body
Believed to have been constructed in 1867 on the banks of the Columbia River, the John Stanger House is a rare example of Pioneer Plank construction. The house is historically significant for its close association with the earliest period of settlement in Clark County. 

The simple two-room gabled structure built of milled cedar planks was the first permanent house of Stanger, who came to the area in 1838 as a millwright for the Hudson's Bay Company, settled on the property by the 1840s, and received a Donation Land Claim patent for the site in 1865. A frame wing was added to the rear of the house in the late 19th century, and the house remained in the Stanger family until the 1960s. 
Listed on the Clark County Heritage Register in 1983.
Listed on the National Register of Historic Places in 1990.
Open to Public:
This property is located in the E. Jane Weber Arboretum, but the structure is not open to the public.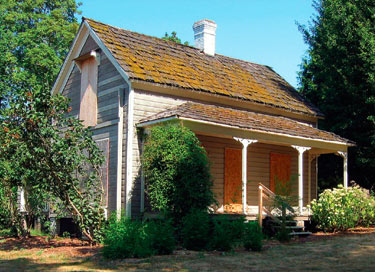 Did you know?
The house is believed to be the second oldest residence in Clark County.
Location
John Stanger House
9215 SE Evergreen Hwy.
Vancouver, WA 98664
United States