Body
This rural school building, decorated with ornamental brickwork and classical details like the pedimented porch and plain frieze, was built on land donated by G.T. and Mary Lambert. Although the Lambert School closed in the 1940s, the building continues to support various community organizations.
The area known as Lambert is situated three miles southeast of Ridgefield, near the crest of the ridge which gives that town its name. Many of the new arrivals who first settled in the Lambert area were German-speaking emigrants from Germany, Switzerland or Russia, or first-generation Americans from the upper Midwestern states, such as Minnesota, Wisconsin or the Dakotas.
The first Lambert school was housed in a log cabin in a wooded area on the Meuler family property, approximately one mile southeast of the present school property. In 1874, G.T. and Mary Lambert deeded the northeast corner of their land to the Board of Directors of School District 15 to be used as a site for a schoolhouse. A new brick building was dedicated on September 9, 1926.
The new structure had large windows on the west, which provided ample daylight for the classrooms, but not the visual distraction of the Cascade Mountains which were to the east. Folding wooden doors divided the single interior space into two large rooms: grades 1-4 on the north end of the building, and grades 5-8 on the south end, with its adjacent library. The wood stove of the previous school had been replaced with a wood burning furnace in the basement. Other modern improvements included indoor lavatories and running water from a well on the property.
Listed on the National Register of Historic Places in 1989.
Listed on the Washington State Heritage Register in 1989.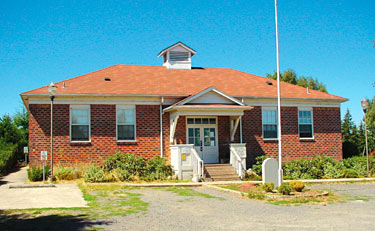 Did you know?
The Lambert area was also known as "Germantown" until World War II.
Location
Lambert School
21814 NW 11th Ave.
Ridgefield, WA 98642
United States