Body
This home's Queen Anne architecture is the most popular of high Victorian styles. The house has ornate Victorian features including stained glass windows, decorative woodwork and a round turret. The house was an impressive residence for the commanding officer of Vancouver Barracks during the period of western development.
The house is named in honor of General George C. Marshall (1880-1959), who lived here from 1936-1938, serving as commander of the barracks and the regional Civilian Conservation Corps. It was to this house that General and Mrs. Marshall welcomed the Russian crew of the first nonstop transpolar flight from Europe to America in 1937. General Marshall is perhaps best remembered for the post-World War II Marshall Plan for European economic recovery that he authored and for which he was awarded the 1953 Nobel Peace Prize.
This "crown jewel" of Officers Row continued to house the barracks commander through the end of World War II. It was acquired by the city in 1984 and renovated along with the other houses on Officers Row in the late 1980s.
Listed on the Clark County Heritage Register in 1985.
Listed on National Register of Historic Places in 1974.
Open to Public:
Yes. Please visit the website for more information. Meeting space and offices can be reserved by calling (360) 693-3103.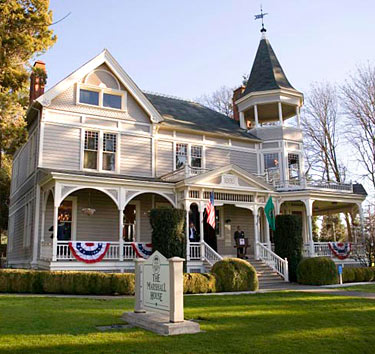 Did you know?
This house was built for $10,000 in 1886 using standard issue US Army plans.
Location
1301 E Evergreen Blvd.
Vancouver, WA 98661
United States