Body
Officers Row consists of 21 houses located in a long row facing the Fort Vancouver Parade Grounds. The small area, which includes Officers Row, the old Fort Vancouver, and the old Barracks Parade Grounds was once the hub of northwest history. 

The houses were designed for either company or field grade officers. High ceilings, large foyers, long sweeping staircases, bay windows, numerous fireplaces, and many rooms are characteristics of most of the houses. The Grant House, built in 1846, is the oldest house and one of the foremost historical structures in the Old Oregon country.
Listed on the Clark County Heritage Register in 1985.
Listed on the National Register of Historic Places in 1974.
Open to Public:
The Marshall House and Grant House restaurant are open to the public. Visitors can purchase gifts, take tours, attend lectures, and dine in the historic district.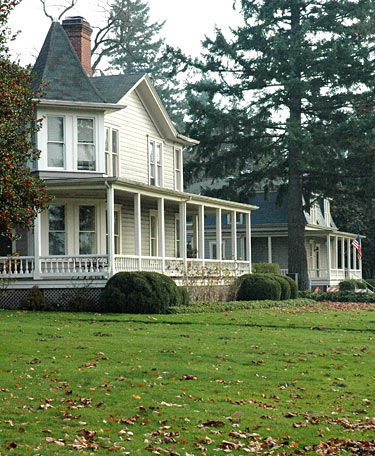 Did you know?
The Grant House is named after General Ulysses S. Grant who once worked in the house.
Built
Houses built from 1846 - 1906
Location
Officer's Row Historic District
611 E Evergreen Blvd.
Vancouver, WA 98661
United States