Body
The 2.5 story, 3,700 square foot, Pittock-Leadbetter House was built in 1901 as a farmhouse. Queen Anne style exhibits bold forms and grand dimensions laced with elegant beveled glass and whimsical details. The circular bay capped with a conical roof is featured on the southeast corner of the house which was restored in the 1980s. 

The house was originally built by pioneer businessman and publisher of The Oregoniannewspaper,  Henry L. Pittock for his son and daughter-in-law to live in after their marriage in 1902. 
Listed on the National Register of Historic Places in 1979. 
Listed on the Washington Heritage Register in 1979.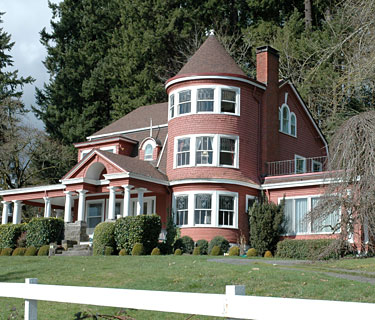 Did you know?
Henry L. Pittock constructed the first paper mill in the West.
Location
Pittock-Leadbetter House
114 NE Leadbetter Rd.
Camas, WA 98607
United States