Body
The Vancouver Main Post Office is a two-story, buff brick building on a raised basement. Resting on concrete footings, the basement walls are brick. Brick supported by structural steel framing, also comprises the above-grade walls.

The symmetrical facade consists of a seven-bay, two-story central salient flanked by single-bay, one-story wings. Vertical emphasis to the first story and focus on the entry is provided by a projecting sandstone portico supported by eight smooth sandstone columns with Greek Corinthian capitals. A slightly projecting molded cornice extends from the portico along the facade to terminate the wings. Flat sandstone pilasters, corresponding to the columns, divide the second floor into seven bays (six window bays and a centered decorative panel). A balustraded parapet terminates the facade. The roof is flat built-up tar composition.

The Vancouver Post Office is a well-preserved and essentially unaltered example of a small town post office and federal office building. The Neo-Classical building dates from the city's early 20th century growth period and is one of the principal buildings remaining from that time. Architectually, the building clearly pronounces its Beaux-Arts origin, particularly in its colonnaded sandstone portico. The building's design is unique among other significant classically-inspired structures in the city.

The post office symbolizes recognition by the federal government that Vancouver was an important regional center.
Listed on the National Register of Historic Places since 1991.
Listed on the Washington State Heritage Register since 1991.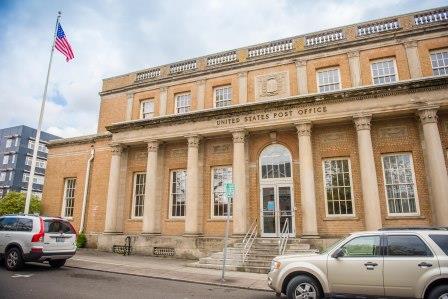 Did you know?
The building was the first federally constructed post office in Vancouver.
Location
1211 Daniels St.
Vancouver, WA 98660
United States