Body
Venersborg School is a simple 1 room, 1.5 story, wood frame, gabled schoolhouse in a rural wooded setting. It is located in central Clark County, in the foothills of the Cascade Mountains, in the watershed of Salmon Creek. Venersborg School is historically significant for its association with rural public education in Clark County and for its associations with the settlement and development of the Swedish immigrant colony of Venersborg. 

The structure was built by community resident and Swedish carpenter, John Kullberg, for children of Swedish immigrants who settled in the recently platted and subdivided settlement. Kulberg also crafted a church and many homes in Venersborg.

Oriented to the north, the school faces N.E. 209th Street, formerly County Road #10. The building and its two associated privies are well maintained and retain their architectural integrity. With its deep, grassy and coniferous shaded setback, the setting also retains its original feeling and association.

Built in a simple vernacular design, the wood frame building retains its rural, integrity as the nucleus of community life in the small unincorporated village. Though the school district was consolidated in 1931 with the larger Battle Ground district, the schoolhouse has remained in continuous use by community residents. 
Listed on the National Register of Historic Places and Washington Heritage Register in 1989. 
Related information:
Talking History of Venersborg: Video recordings of oral histories from long time Venersborg residents
Open to Public:
Yes, by appointment only. Visit the website.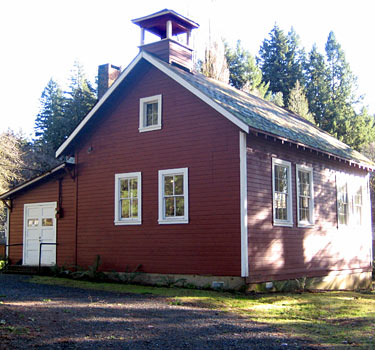 Did you know?
This structure is the last intact one room school in Clark County.
Location
Venersborg School
24309 NE 209th St.
Battle Ground, WA 98604
United States