Clark County Public Works, in partnership with Washington State Department of Transportation,  or WSDOT, and in cooperation with adjacent development groups, has selected a preferred alternative for the Northeast 179th Street Corridor. The selection follows nearly a decade of planning, studies and public input, and supports a series of projects along a two-mile stretch between Northeast 179th Street near Interstate 5.
These projects improve the local transportation system to support the Clark County Comprehensive Growth Management Plan along the Northeast 179th Street Corridor. When complete, these projects will improve travel times, encourage economic development, optimize intersection locations, upgrade stormwater management and bring the corridor up to current road standards.
These improvements include WSDOT's future construction on the Northeast 179th Street Interchange at I-5 and public improvements to be constructed by private development, as well as the projects to be constructed by the county.
Learn more about various improvement projects and the planning effort for the corridor by watching this video: 
Corridor limits
The corridor limits on Northeast 179th Street are between Northeast Delfel Road and Northeast 50th Avenue. However, the improvements include several associated projects in the area.
---
For information on the circulation and access management plan (not part of these projects), click on the link below.  

https://clark.wa.gov/public-works/179th-st-access-management-and-circulation-plan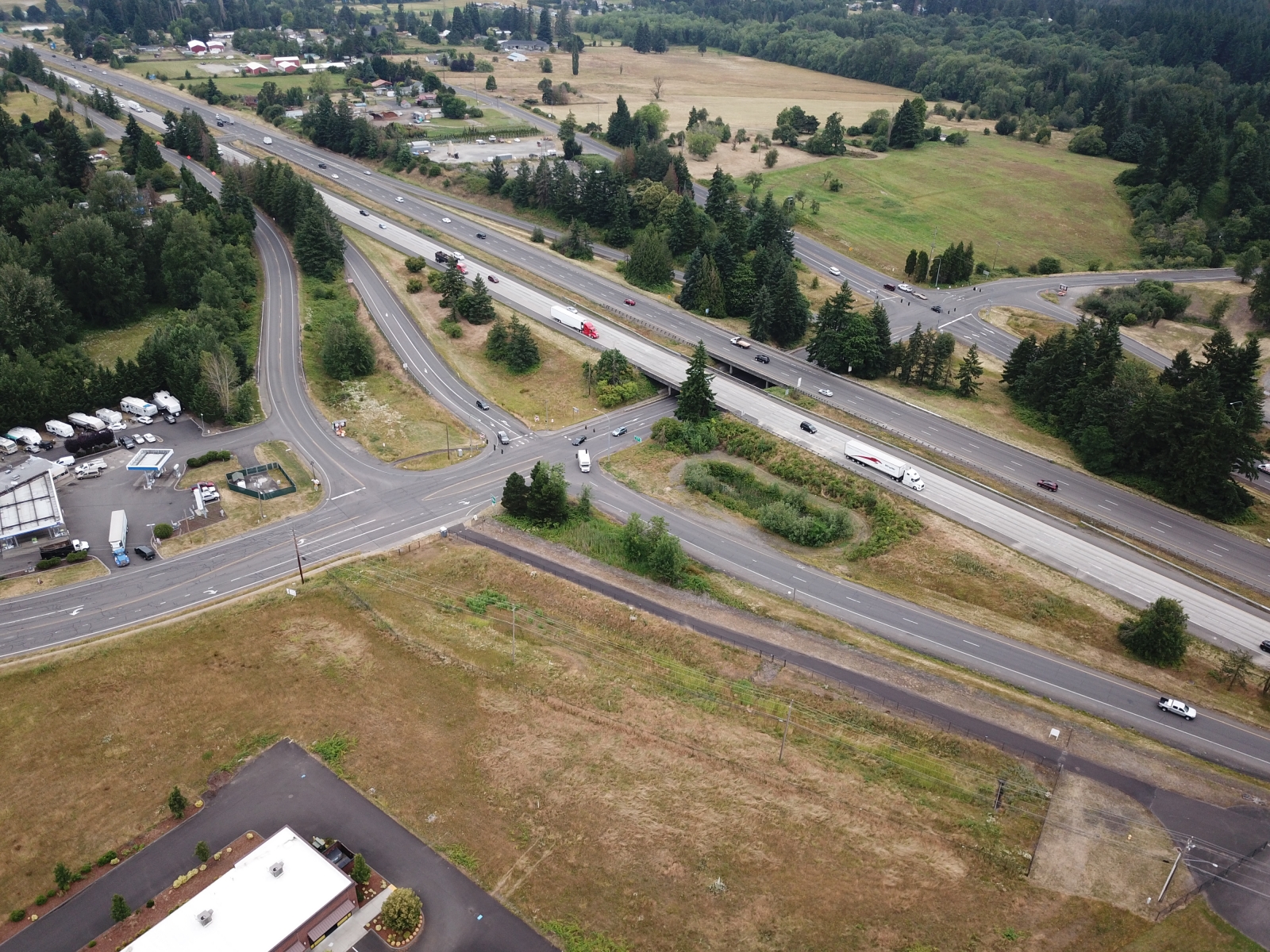 Improvement benefits
These improvements will relieve traffic congestion and support economic development by:
Increasing road capacity by allowing more vehicles to move through the corridor.
Increasing spacing between intersections on either side of I-5.
Moving traffic efficiently by eliminating left-turn delays and traffic signal delays.
Improving safety for motorists and pedestrians by eliminating left turns and consolidating intersections.
Meeting the Clark County Comprehensive Growth Management Plan.
Open house
Thank you to the more than 130 people who attended the open house at Alki Middle School on Tuesday, Sept. 10, 2019. You can find the boards that were used at the event, including the Urban Holding area map here.
Stay tuned for future public involvement events about these projects.
Projects
Overall improvements include a series of projects that are anticipated to go to construction between 2021 and 2027. They include:
---
---
---
---
---
---
---
tag
Click image to enlarge 
Northeast 10th Avenue is open to traffic. Some final work still needs to be completed, including planting the areas around the culvert and stormwater facility and establishing the plants. The planting is expected to occur between November 2022 and February 2023, with establishment work, including irrigation, occurring for two years after that. Until that work is done, there still could be occasional single-lane closures, but the roadway will remain open to traffic during any remaining construction. Read more here.
CAPITAL ROAD PROJECT
323322
PROJECT BACKGROUND
Public Works has completed the design on the upcoming Northeast 10th Avenue project, from Northeast 149th Street to Northeast 154th Street. The project will complete the gap between Northeast 149th Street and the new bridge that was constructed several years ago.

PROJECT IMPROVEMENTS
The roadway will be improved to include two travel lanes, a center left-turn lane, bike lanes and sidewalks, as well as a signal at the Northeast 149th Street intersection. A new culvert will be installed at the creek crossing just north of Northeast 149th Street, and the roadway surface (grade) will be raised by as much as 15 feet; the intersection at Northeast 149th Street will be raised by approximately eight feet. Other improvements include the construction of retaining walls, sanitary sewer main, water main, and stormwater facilities.
SCHEDULE AND TRAFFIC
The project is being advertised for construction bids, with bids to be opened in early November. However, construction on site will not begin in earnest until mid-spring 2021 and is expected to last 12-14 months. Work in the unnamed tributary will be confined to a period when construction will have the least effect on fish and other aquatic life. 
Construction will require closing the culvert crossing to all traffic, although local access will be maintained from the north for a small number of homes and other properties along this section. The intersection of Northeast 149th Street and will remain open for most of the project, except for a one-month period. Beginning April 25, 2022, the intersection of Northeast 149th Street and Northeast 10th Avenue will be closed to traffic. A detour will take motorists east/west on Northeast 146th Street and north/south on Northeast 4th Avenue. Every effort will be made to reduce the time needed for the closure and detour.
Through traffic will need to use alternate routes for the duration of the project. Traffic using the intersection of Northeast 149th Street will experience temporary construction delays during the project, except for the month when it is also closed. For both detours, temporary signs will guide drivers to alternate routes.
FUNDING
Construction costs are anticipated to be between $8 and 9 million, including a federal grant for approximately a third of the costs.
Northeast 10th Avenue Bridge project website
---
HEADS UP
March 2022 Heads Up (PDF)
May 2021 Heads Up (PDF)
February 2021 Heads Up (PDF)
November 2020 Heads Up (PDF)
---
Other documents
More information:
Scott Sawyer, project manager                                         
Northeast 179th Street projects                                          
Clark County Public Works                                                    
564-397-4364                                                                          
scott.sawyer@clark.wa.gov   
Troy Pierce, project manager               
Northeast 10th, Northeast 15th Avenue projects    
Clark County Public Works      
564.397.4403
troy.pierce@clark.wa.gov