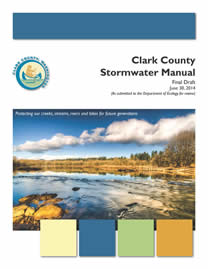 Body
Clark County has a National Pollutant Discharge Elimination System (NPDES) Phase I Municipal Stormwater permit effective August 1, 2019 through July 31, 2024. The Washington State Department of Ecology issued the permit and is responsible for enforcing the federal Clean Water Act in this state. Clark County has operated under an NPDES permit since 1999.
The permit, among other things, specifies regulations for managing the quantity and quality of stormwater discharged from the county's stormwater system to our local creeks, streams, rivers and groundwater.
Clark County created the Clark County Stormwater Manual in 2015. The manual was the result of a two-year effort and included numerous stakeholders. The current Clark County Stormwater Manual 2021 became effective July 1, 2021. This manual has a number of changes suggested by manual users and to clarify manual language. It also includes changes mandated by the 2019 NPDES stormwater permit. The manual revisions were reviewed and approved by the Department of Ecology and is considered equivalent to the 2019 Stormwater Management Manual for Western Washington.
---
​Stormwater Code
Clark County Code includes regulations for local land use and development, along with best management practices to minimize pollution and harmful effects of stormwater. Specific codes for stormwater include:
---
2021 Clark County Stormwater Code Manual 
Clark County has updated its 2015 stormwater design manual and associated county code. Under its state stormwater permit, Clark County must implement the updated manual by July 1, 2021.
There were several reasons for the update. The Washington Department of Ecology's 2019 NPDES stormwater permit for Clark County has several required changes. 
There were many minor housekeeping changes to clarify language and correct errors found as Clark County implemented the 2015 manual.
There were also several policy and technical changes driven by staff requests and challenges in implementing the manual.
A table of changes lists the updates, whether they are considered significant or minor, and if they are mandated by the state. The table provides a guide to manual revisions that may impact a development project design.
The Washington Department of Ecology found the 2021 Clark County Stormwater Manual equivalent to the 2019 Ecology Stormwater Management Manual for Western Washington, making it suitable for use by any western Washington municipality to meet state stormwater management requirements for development projects.
Individual Books
NOTE: Applications submitted before July 1, 2021, will use the code in place at the time of a fully complete application.
Clark County Stormwater Manual 2015 Errata Updates
(Effective December 2, 2016)
Clark County Stormwater Manual 2015 Errata September 2016
(Effective December 2, 2016)
With strikeout/underline notations
Clark County Stormwater Manual 2015
(Effective January 8, 2016) 
Supporting resources:
For required signage on stormwater features, use the applicable template with your local sign fabricator:
---
Western Washington Hydrologic Model
Update (March 2016) - The Washington State Department of Ecology has an update that can be downloaded at: https://ecology.wa.gov/Regulations-Permits/Guidance-technical-assistance/Stormwater-permittee-guidance-resources/Stormwater-manuals/Western-Washington-Hydrology-Model.  You will need to download and install both the WWHM2012 Version 4.2.12 and Map Data for this update.
Description of the changes:  Version 4.2.12 addresses issues related to generating project reports in the PDF format, the wetland fluctuation report, the water balance report and the water quality report. This also addresses an issue related to the auto-size feature for the 3 orifice design. These issues are considered a programming bug.  According to the version numbering system in use as of October 21, 2015, the digits after the last decimal point are changed for this WWHM update. More information and instructions can be found on the Ecology web page.  Contact them directly with questions or comments.
---
Resources
---
Trainings
Visit our Low Impact Development web page for information about trainings related to stormwater planning, design, maintenance and operations. More >>
---
State Stormwater Permits for Development Projects
Projects disturbing one or more acres of land are required, in most cases, to have a state construction stormwater permit. More information can be found on Ecology's Construction Stormwater General Permit page. 
Projects that create industrial activities may also need a state industrial stormwater permit. More information can be found on Ecology's Industrial Stormwater General Permit page.
---
Historic documents
Join the email distribution list for updates to stormwater regulations
Email cleanwater@clark.wa.gov with Regulations in the subject line, your contact information in the body of the email.
Low Impact Development in Clark County:
Upcoming Trainings: